My "Baby Mopar"
In 1985, at the Newark, Delaware Chrysler plant, a Radiant Silver 4 door Dodge Aries SE rolled down the line. It had a 2.2 liter 4 with "Chrysler Electronic Fuel Injection". It had a console, bucket seats, and a AM/FM Stereo to jam to. It was delivered to its first owner in Glen Burnie, Maryland.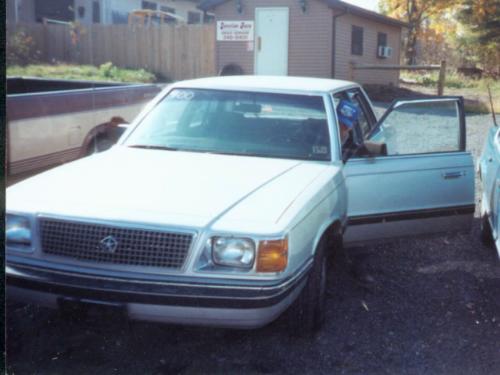 15 years later, and a $800 head job, my grandfather Tom paid $200 in November of 2000 from a friend. On December 18, I saw the car for the first time at Philadelphia International Airport. From that point on, I have loved this car. I did the tune up (plugs and wires) on December 25. I used Autolite platinum plugs gapped exactly to .035". Tip, if you buy a set of wires at a Wal Mart type place, use the shortest coil wire you can, it will create a better spark. I also installed a massaging steering wheel cover with wood grain trim. Instead of the stock 99 HP, the platinum plugs bumped it up to 101 HP. The only problems with the car was a constant fast idle. But I un-hooked the battery cable for 20 seconds to reset the computer and that fixed the problem. The other problem was the radio. The AM/FM button didn't work (unless you pushed on it with a pair of pliers.) The volume also changed when you hit a bump, and the reception sucked. Another problem, on April 10, while my grandfather was in the home stretch coming home on Route 103, the engine died. It coasted up Racetrack Rd, and he got it to the side of the road. He cranked the engine, but it wouldn't start. Finally, he found out the coil had failed, so he fixed it and put in a new resistor.
Update: As of June 11, the radio in the K car has been fixed. While driving in New Lancaster Valley, my pap and I went to Duke's Used Car lot near Wolf Gap state park. When we pulled in, I noticed a late 80's Plymouth Reliant in the lott. After further investigation, I noticed the car had the same AM/FM radio that we had. I asked Mr. George about the car, he said on a trade he got the car. The transmission was out of it, so I asked him if we could trade radios. I told him I knew how to take the radio out, and he said yes. So now we have a new radio. And it receives AM ST signals (if you are in the central Pennsylvania area, tune in to AM 1210 to see if you can pick up AM ST signals. I f you like oldies, tune into AM 1530 and 740). Now I can listen to 96.1 with out getting frustrated. Check back for later updates.
Specs:
Transmission: TorqueFlite, Ratios: 1st 2.69:1, 2nd 1.55:1, 3rd 1.00:1, Final Drive 3.02:1
Engine: Inline, overhead cam four cylinder. Cast iron block; aluminum head. Bore and stroke: 3.44 x 3.62 in. Compression Ratio; 9.0:1. Brake HP: 99 @ 5600 RPM
Steering: rack and pinion
Suspension: Dual path Iso-strut front w/coil springs and linkless anti-sway bar, beam rear axle w/trailing arms and coil springs.
Fuel Tank: 14 Gal
Optional Packages:
LE Pkg:$516
Air Cond: $737
Rear Defroster:$143
AM/FM Stereo:$125
Bodyside Tape Stripe:$48
Cloth/Vinyl bucket seats:$210