The AC Body
Photos courtesy Chrysler Corporation.
The AC-body was introduced in 1988 as the Dodge Dynasty and Chrysler New Yorker.
The Dynasty was available in base and LE versions. Standard engine for the base model was the 2.5 L 4-cylinder, optional was 3.0 Mitsu V6 (standard on Dynasty LE and New Yorker).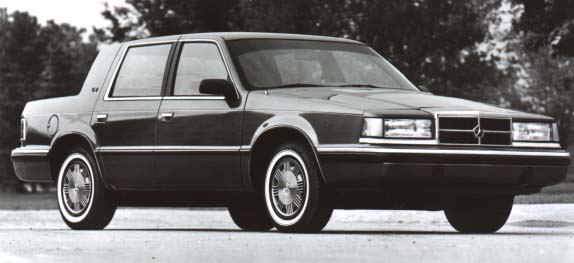 1992 Dodge Dynasty
In 1990, the dashboard was changed slightly and the 3.3 V6 was added to the option list (3.8, too, but we'll get into that later). Also in 1990, the platform was stretched slightly to create the Fifth Avenue and Imperial (Fifth Avenue had 3.3 standard, 3.8 optional - Imperial had 3.8 standard). The only real difference was the rear doors were a bit longer. Also, the front end on the Chrysler models was given a sloping treatment, but otherwise looked the same. Dynasty was never changed on the outside.
These cars were the only EEK (K-based) Chrysler, Plymouth, or Dodge cars to use either the 3.3 or 3.8 liter engines, which were otherwised reserved for minivans until the LH series was produced. The Fifth Avenue and Imperial remain the only cars to use the 3.8 engine.
The Imperial was generally viewed favorably by the press for its ride and fuel economy, and was rated highest in quality among domestic cars by Consumer Attitude Research. However, one magazine suggested that its dismal sales were probably due to the lack of a V-8, which was desired more as a status symbol ("price of entry") than for its actual acceleration.The Fifth Ave has more leg room than a Cadillac Brougham.
1992 Chrysler Imperial
There was a base New Yorker model offered in the early 90s-a badge-engineered Dynasty. The only difference was the grille didn't have the Dodge "gunsights." All other things were identical.
The Canadian version was known as the Chrysler Dynasty.All engines but the 2.5 were pared with the "world's most adavanced transmission", Ultradrive.Some people though this was a horrible transmission.In fact, it's one of the best.Pared with the 3.3 V6,it reaches 90% of its full torque at 1,600 rpm's.The only problem is that it takes Type 71/76 transmission fluid.If you put Dexron II ,or Mercon,it ruins them, and FAST!